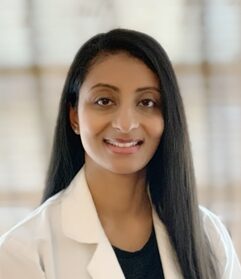 Dr. Madhu is a Diplomate of the American Board of Pediatric Dentistry, whose goal is to provide high quality dental care to children in a caring and compassionate way. She strives to help families establish a dental home where children are able to develop and instill good dental habits that goes a long way.
Dr. Madhu is highly trained in behavior management, sedation, preventive dental care, operating room dentistry, interceptive orthodontics, and treatment of special needs children. Dr Madhu is an active member of American Academy of Pediatric Dentistry (AAPD).
She resides in Westchester with her husband and two children.  In her free time she loves spending time with family and friends. She is an avid fan of Disney movies, traveling and passionate about sketching and photography.
Her personal philosophy is: "If you can dream it, you can do it." (Walt Disney)